Tessa Tanda Children's Books: Help to Save Sports Day
Choose your Amazon Store:
What is your favorite sport? You'll find the most popular sports in 'Help to Save Sports Day', is your favorite among them?

WHAT IS YOUR FAVORITE SPORT?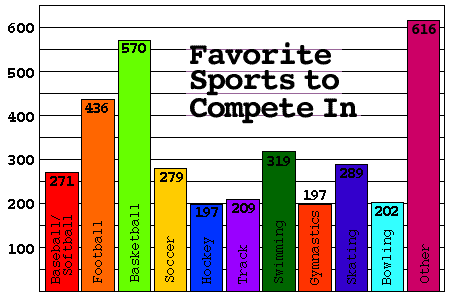 Source: https://teacher.scholastic.com/kidusasu/favsport/resfsc.htm
Help to save sports day is a humorous picture book about a typical sports day at school. However, the sports teacher has suddenly become ill, now everything goes wrong.

All gear has been mixed up and kids are using the wrong stuff. The kids need you! Find out what went wrong and choose the right gear for their favorite sports: Baseball, Basketball, Soccer, Ice Hockey, American Football, Tennis, and Archery.

You can solve all kind of quizzes and puzzles:
- Can you tell what went wrong?
- Can you find the right shoes, ball, helmet,...?
- Find and count the hidden Tandas throughout the book
- On each page, there is something in red. Can you find them all?

Fun for the entire family!
This is a book to experience. It is a book to enjoy together; it is fun for the younger ones (preschool) to look at the pictures and look for Tanda, the older ones (ages 6-8) can probably answer the questions without the help of mom or dad.
Ideal for Saturday or Sunday mornings or bedtime: To start or end the day with a smile. A book to remind you of the joy of playing sports!

Buy the book now and receive an extra bonus:
3 coloring pictures of fantasy animal creatures such as Tanda.
Extra reasons to visit the bonus page:
- to make it easier to spot the differences between the sad and happy kids, and
- for the extra fun activities that are not included in the e-book (Maze and Word Search), and
- for the cheat-sheet with all the answers...

Help to Save Sports Day: What other readers say about this book
"Great Fun: By making choices the kids really take part in the story." - Anita v.B.

"My two kids really loved it. After reading it a first time, they went back and forth through it to discover new things. Afterward, they invented their own 'Tanda' sport: Ice hockey sticks, a soccer ball on a grass field, and the fence as a target." - Gwenda V.

"My family and I enjoyed the hidden pop-up surprises and the colorful illustrations and had a lot of fun looking for Tanda." - Ralph B.

Help to Save Sports Day: Reviews on Amazon

Help to Save Sports Day: Buy the book
This e-book is now available at Amazon.
This paperback is now available at Amazon.
The Dutch version in both e-book and paperback format is now available at Amazon.
This bilingual paperback is now available at Amazon.
Choose your Amazon Store:
TIP: To experience the e-books to their full potential, it is best to

download the FREE Kindle app

on your tablet, smartphone, laptop or pc.
Why? Because by double clicking on the kids in the book their text will pop up. This way the e-book will read like a comic book. Also, double clicking on the text will make the text enlarge and double clicking on the multiple choice pages will reveal the answers.