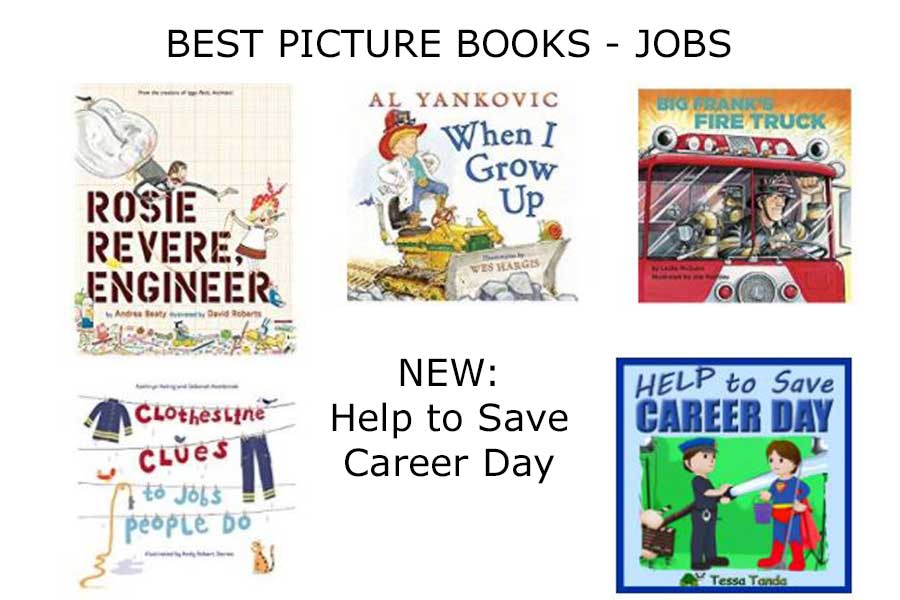 [Best picture books] Jobs
The Best Children's Picture Books about Jobs or Career (source: GoodReads and Amazon):
– Rosie Revere, Engineer
– When I Grow Up
– Big Frank's Fire Truck
– Clothesline Clues
New in this category: 'Help to Save Career Day' by Tessa Tanda.
Rosie Revere, Engineer
Rosie may seem quiet during the day, but at night she's a brilliant inventor of gizmos and gadgets who dreams of becoming a great engineer.
When I Grow Up
Billy's classmates may have never considered careers in snail training or sumo wrestling before, but by the time the exuberant eight-year-old is done cataloging his dream jobs, they just might share his belief in unlimited potential!
Big Frank's Fire Truck
Big Frank is quite the firefighter and takes the reader along on a wonderful journey through his twenty-four hour shift. From helping a burning vehicle to testing a store's fire system, Big Frank is known for his ability to help.
Clothesline Clues
This picture book gives the reader a series of clues so they can guess what job he/she does.
'Help to Save Career Day' by Tessa Tanda
All stuff collected for Career Day has been mixed up. Can you help find the kids to find the right clothes, tools, etc for the jobs?
Go to the page dedicated to this book